At Alpine Property World, we understand that buying a property overseas is a huge decision. We also know how this decision can be impacted not only by the price of a property, but also by the additional associated costs involved.
The exchange rate is a major factor to consider when buying overseas as it can massively impact the relative cost, especially during a volatile period in the currency markets.
For this reason, Alpine Property World has partnered with TorFX, one of the largest and leading specialists in currency exchange. With over a decade of experience, TorFX can offer our clients market leading rates of exchange, 0% commission, a fee-free service and expert guidance on foreign exchange.
Even the smallest of fluctuations in the currency market could make a big difference to the price you pay for an overseas property. Our partners at TorFX will work hand in hand with you to provide you with the guidance you need, along with bank beating rates and fast, secure transfers.
It's never too early to begin thinking about the exchange rates, as these can fluctuate as much as 2 or 3 percent in a single day - get in touch with TorFX now for a no obligation chat with one of the team. They will work with you to achieve the best rate possible at the best time.
Case Study
Louise was moving to France, but in order to finance her relocation she needed to sell her property in the UK. Once she had sold her house for £250,000 Louise then needed to make an international transfer from Pounds Sterling to Euros. She made enquires with both her bank and TorFX, and made a considerable saveing by choosing TorFX.
Sold House for £250,000
Rate offered by bank: 1.1908
Rate offered by TorFX: 1.2143
Amount achievable from Bank: €315,562
Amount achievable from TorFX: €321,789.5
That's a saving of €6,227.5 before you even take the money Louise's bank would have charged in transfer fees and commission costs into account.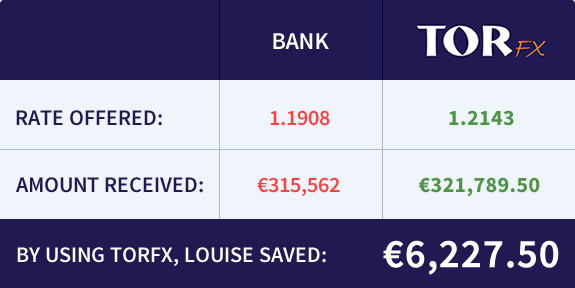 Enter your details below to arrange a call back (If you have an adblocker, you might need to disable it)